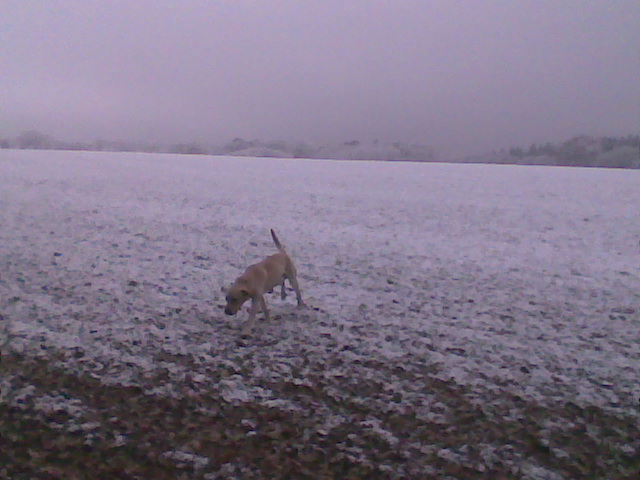 Set out for our afternoon walk with Indi (so excited and pleased to get out into the cold! of -2 celsius) and Jester just pleased to be out ……..
Jester is very well behaved today and walks to heal down the long pebble driveway, then sits to wait to be put on a lead to enter the lane.  Very good puppy!  I talk to them constantly which I think Indi quite likes but Jester,  I think gets very board with my voice and constant "Jester, heal! Jester, Heal!"  Indi responds to heal very well until he enters the woods and then just basically responds to direction when he wants…..he's seen it all and won't be bossed about by some Australian girl who has no idea what elite level of gun dog he is!!!  Okay Indi, that's okay with me as long as you have a lovely walk and don't wander off!!!!
The scene is like walking into the set of  the "Adventures of Nania…"  I find this so breathtakingly beautiful and enjoy every step of the way.  My co-walker with the dogs (and husband who by the way is an Englishman) typically says, "it's alright seeing this at Christmas time, but day after day is too much…."  So….. anyway, dogs and I are loving the conditions and we finish the walk with the sometimes naughty boy Jester behaving very well.  I fill up their water bowls and make sure their bedding is sorted out for another bitterly cold night ahead.  See you tomorrow boys!  No taking them out before bed tonight as the owners will be home and will do this later on.