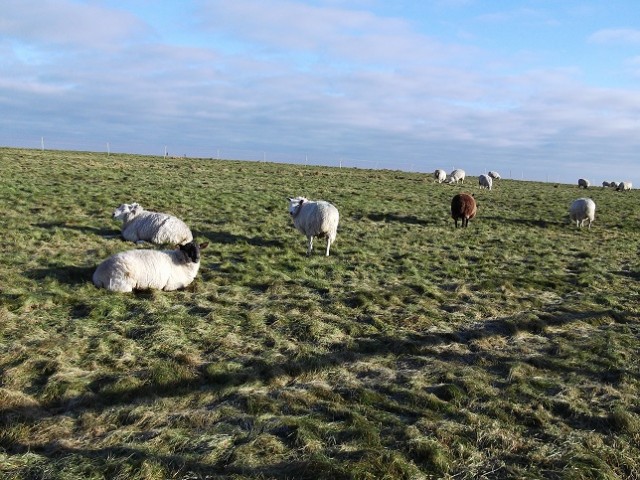 We woke to a beautiful sunny Sunday morning but extremely cold, around -2 degrees C.  Perfect walking conditions for a long hike with only a breath of wind.  The night before we organised our gear, set the table for breakfast and made a few wholemeal cheese and onion scones to have with our thermos of coffee along the way.  Today's hike would be a round trip of 20kms (around 12.5 miles) and would start in the lovely village of Kingsclere towards Hannington, Sydmonton through to Ecchinswell and finally back to Kingsclere.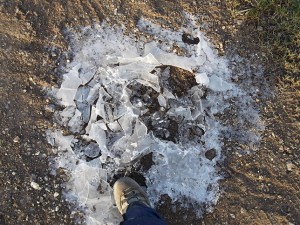 Walking in freezing sunny conditions, with hardly a breath of wind is a sure way to wake one up early in the morning…..and we started early, just as the sun was coming up and the cold air was at it's chilliest. 
After walking a continual slope for ten minutes or so, we were as warm as toast and enjoying the peacefulness and breathtaking views on such a still sunny Sunday morning.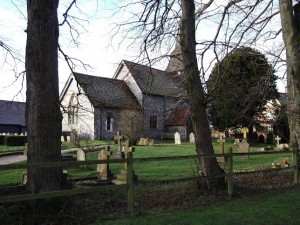 We stopped for coffee just after Hannington seeing only a few dog walkers in the distance.  That went down wonderfully well but we didn't stop for long as the cold was settling in my body again.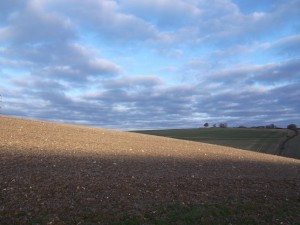 We made our way along The Wayfarers path towards the Gallops.  The views towards the Gallops was amazing with large sweeping fields lit up by the clear bright sunshine. 
We crossed the main road at White Hill and noticed a huge number of cars parked along the roadside.  As we continued to walk we could see a number of kites being flown near to Combe Hole.  It was an impressive sight.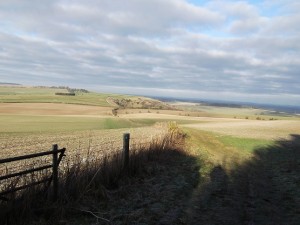 So over the Gallops we go and passed Watership Down and through the magnificent Sydmonton Court Estate, the country home of Sir Andrew Lloyd Webber.  This leg of the walk is definitely my favourite.  The grounds are beautifully maintained and the trees on the Estate are just magnificent to say the least.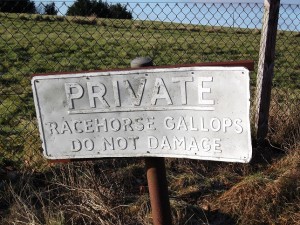 We also pass by some beautiful Pollo horses at Sydmonton Farm.  They all looked very relaxed feeding on the grass in their well maintained fields.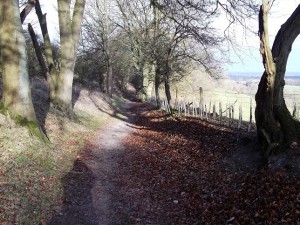 By this time we had been walking for around 2 and 3/4 hours so time to have another coffee and try out one of my cheese and onion scones.  Well, they were pretty decent I would have to say and Steve loved them (of course!)  We were off again enjoying the morning and now appreciating the efforts of getting out of a cosy warm bed early to brave the cold!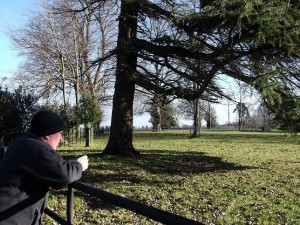 We pass a row of lovely country cottages called Laundry Cottages.  Maybe in the past they were housed by workers on the Estate?  They are in an elevated position and the outlook from their front must be beautiful.  So now the walk takes us through Watership Farm and Stables.  We pass quite a lovely pond which is still frozen over……temperatures were still hovering around zero!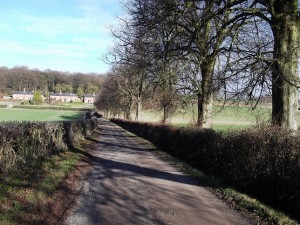 On to the village of Ecchinswell now and I was starting to feel a little tired now……but we had to keep going!
 Through Ecchinswell and we felt like we were definitely on the home straight now.  We passed over a lovely bridge and stream and the ground seemed a lot softer under foot which meant temperatures were rising.  A little too late for us though.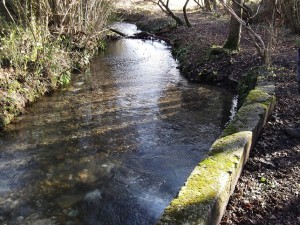 The slight slope back to Kingsclere seemed to go on forever and I felt I was dragging my feet a little!  Steve kept the pace up well though.  I think he was thinking "The faster we go, the quicker we'll finish!!"  We were also thinking about The George and Dragon Pub in Wolverton Townsend where we were going to rest our weary feet.  I think perhaps that is more likely why Steve's pace kept up!
So, it felt like a great achievement walking the 20kms and although I felt a little knackered I knew my fittness was improving and that was an extremely satisfying feeling.
So to The George and Dragon we go for a pint and review our walk and photos…….a great way to spend a Sunday morning that's for sure.
The George and Dragon was quite busy being Sunday lunchtime and our favourite table by the inglenook fireplace was already taken which wasn't at all surprising on such a cold day.  We settled for another table….closer to the bar and not as far to walk which pleased Steve very much.  We talked about the walk and looked at all the photos we had taken throughout the morning….hope you enjoy a few that I have included in this post.  Cheers!