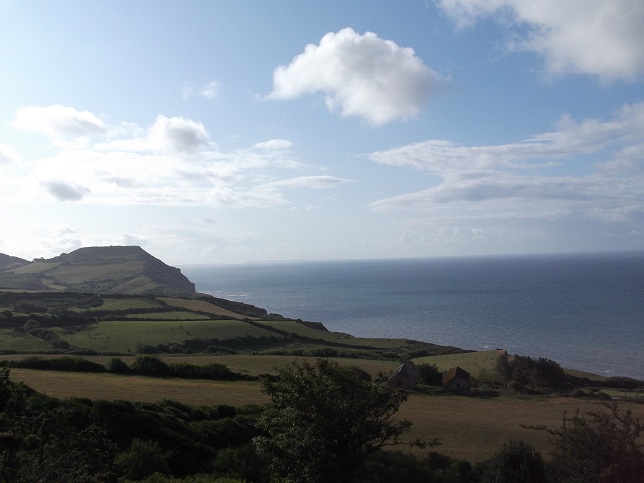 It's impossible for me to hide my love for this wonderful part of the Jurassic Coast in Dorset.  It most definitely is my most favourite walk in England.  On a fine day, the views are breathtaking and ever changing as you walk through fields and up and down cliffs to reach the top of Golden Cap.  A pretty good level of fitness is required if you wish to attempt this walk as there are many steep climbs but you are rewarded with the finest views of the coast line.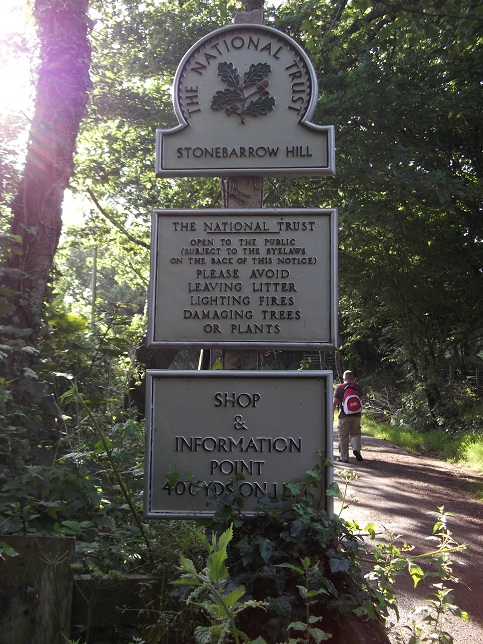 Golden Cap is the highest point on the south coast of Great Britain at 191m and visible for ten miles in each direction along the coastline.
Today, Steve and I set off early for this 8mile journey.  We start at Charmouth where we climb Stonebarrow Hill.  This is a long, steep lane that leads to the start of the path.  You can also start this walk from Charmouth beach.  This path has recently been re-opened but was closed for some time due to the landslips and cliff erosion.  We walked back on this re-opened path, but in my opinion, it really isn't a safe route and when wet I would imagine a slippery, muddy mess!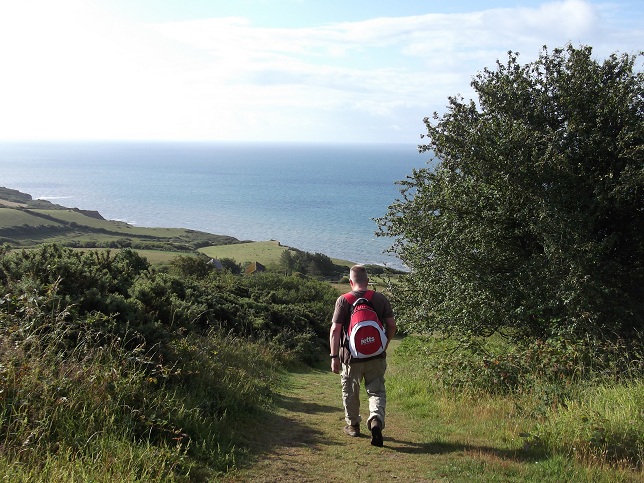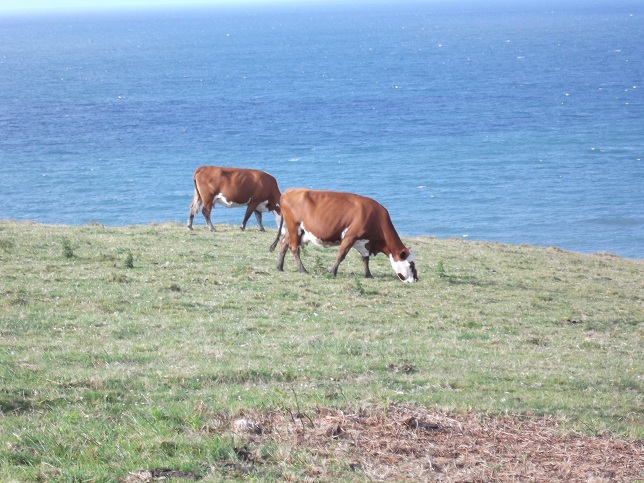 The weather conditions were brilliant for walking; sunny with a slight breeze.  The cows we passed in the fields were not aggressive at all but I didn't like the look of the massive bull sitting down resting as we passed him.  Please God let him be further away on our way back!!!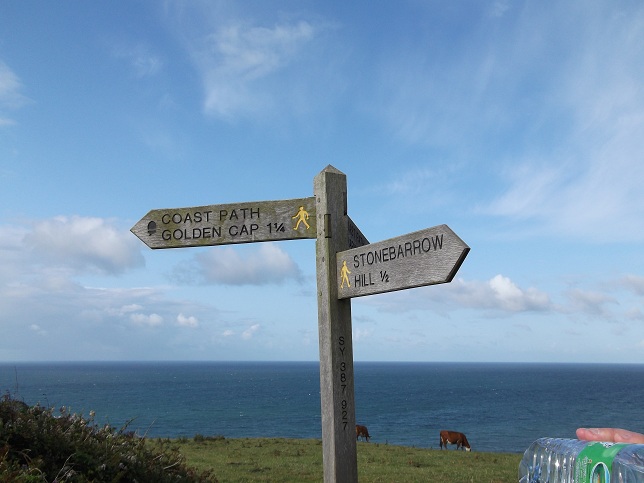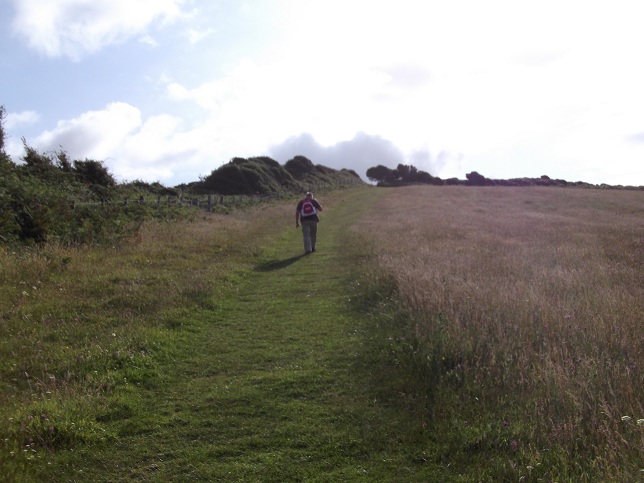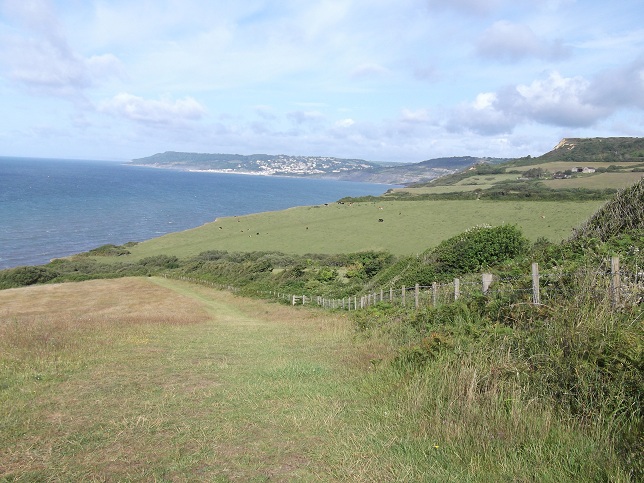 Even though we had quite a few hilly steep climbs, the smile on my face said it all.  I was enjoying this part of the coast just like I knew I would.  Fantastic!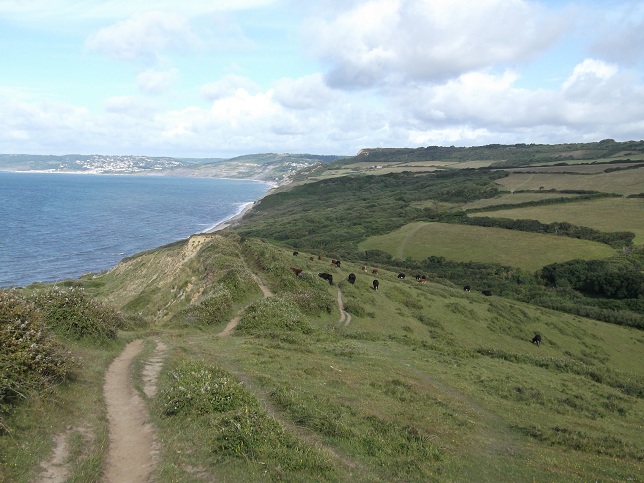 We snacked on a banana and had plenty of water along the way.  The plan was to have cod and chips on the beach at the end of the day, so this exercise was essential to get rid of any guilt we would have eating the best battered fish I've ever tasted!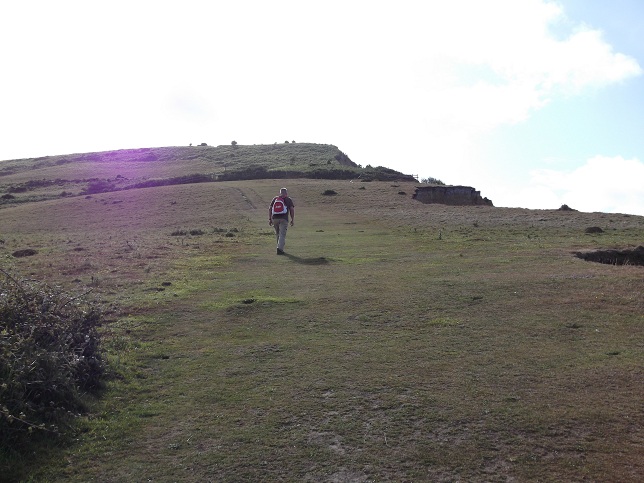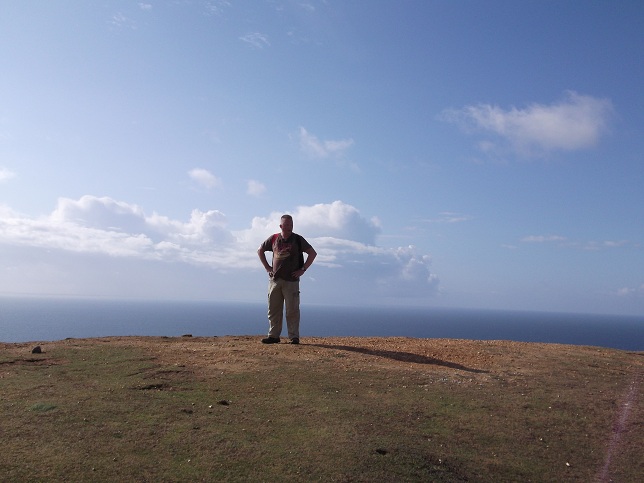 The views from this height are totally amazing.  We stopped to admire the view for a while then headed towards Seatown.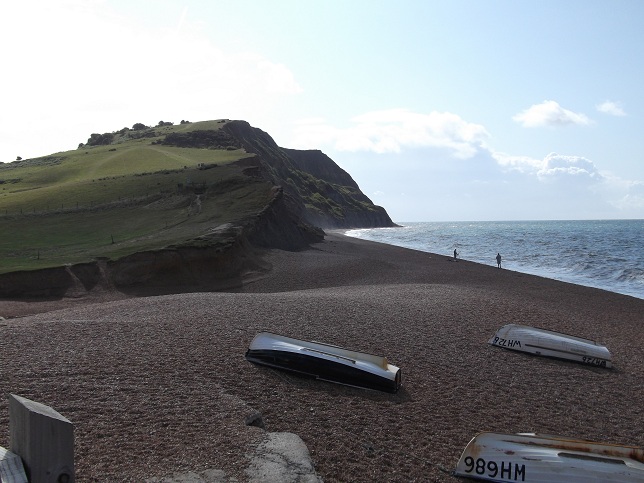 Wow!  What an amazing walk……but we both had to turn around and go back which involved more steep climbs and stunning views in the other direction.  Seatown beach was beautiful, a quiet spot to sit and re-charge the batteries.  The Anchor Inn is a great pub to stop for lunch with sensational views.  Their beer garden is one of my favourite spots, situated on the cliff top overlooking the beach.  With a lovely thirst quenching beverage and perhaps a Ploughman's lunch (Stilton cheese, branston Pickle, pickled onions, crusty bread and a little salad) this is hard to beat after a walk.  But it was still morning! and we had a long way to go before we could even think about such a rewarding finish…..so off we went, back up to Golden Cap and on to Charmouth.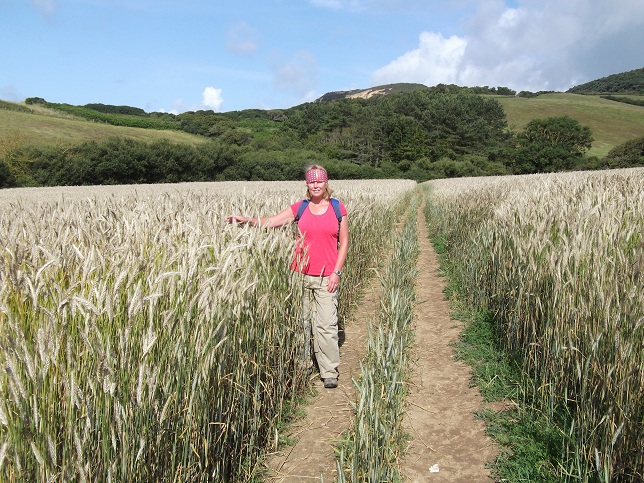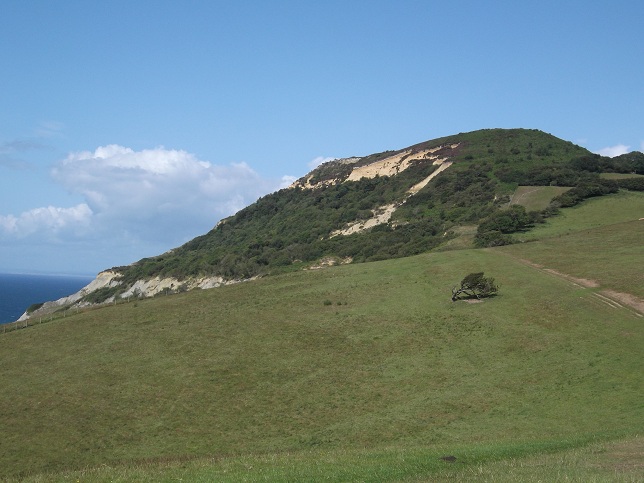 So, we were on our way back to Charmouth and do you think the bull was in the field on our way back?  Yep!  He certainly was!!  Not only that, but the massive creature was right on the path and I could see him from two fields away.  I marched through this field like some machine on wheels!  I was SO scared!  Thankfully Mr. Bull  didn't take the slightest bit of notice of us….I even had a brief moment to stop and take a quick, hasty photo of him!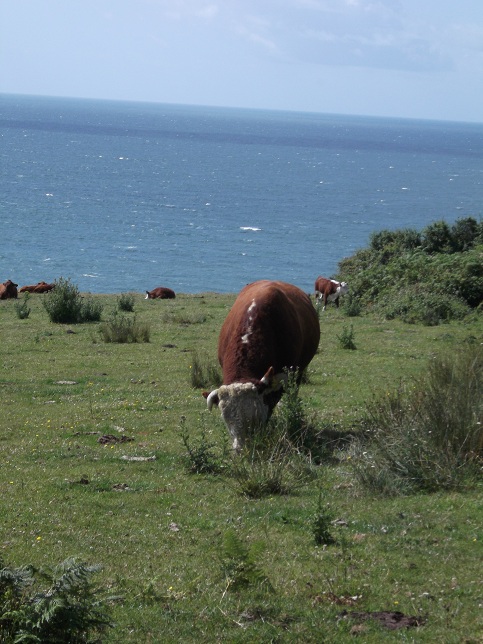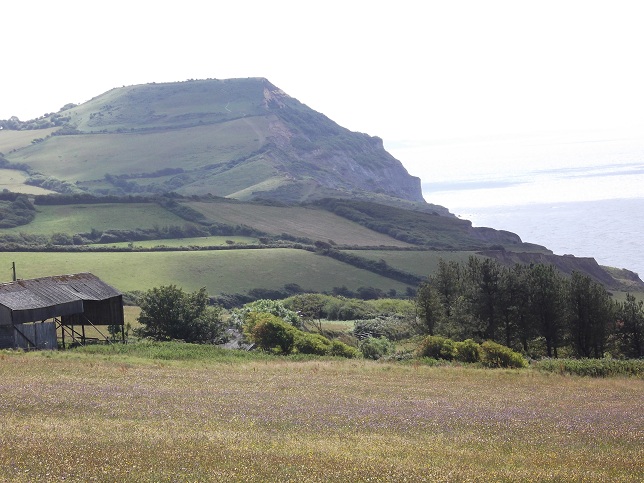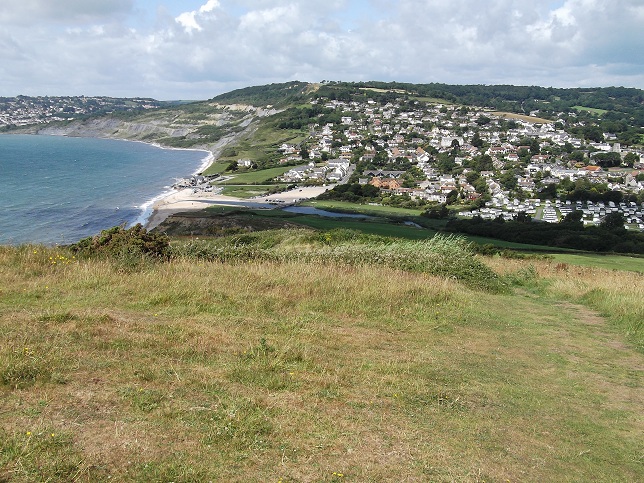 Yippee!  What a wonderful sight, Charmouth here we come.  We decide to take the path that had been closed for some time back to Charmouth but was a little disappointed as it wasn't quite safe, with deep cracks and grooves underfoot from the remains of the landslip and cliff erosion.  but it wasn't an issue at this stage as I was still smiling from such a brilliant walk.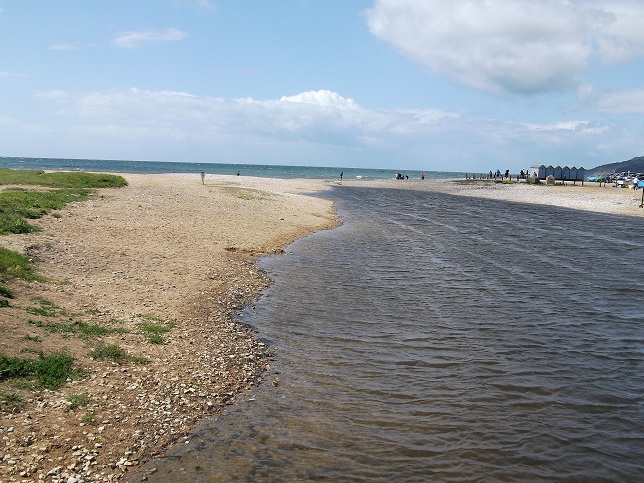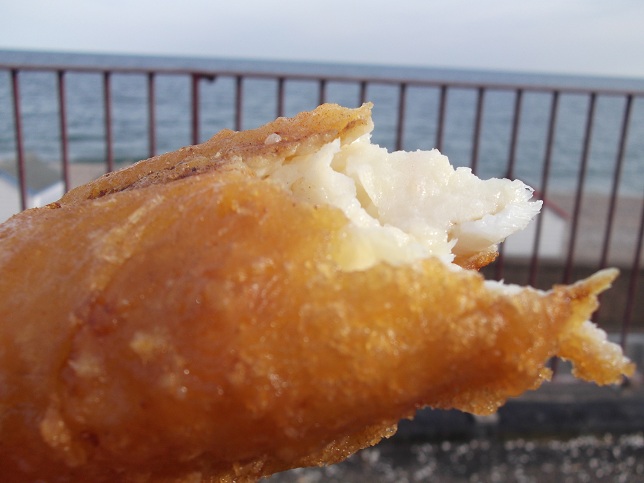 Such an amazing feeling at the end of today to have walked my favourite stretch on the South Coast of England.  Steve loved it just as much.  We teamed our fish 'n chips on the beach with a bottle of a New Zealand Sauvignon Blanc…….wish Fiona and Rob were with us because they would have loved this day!