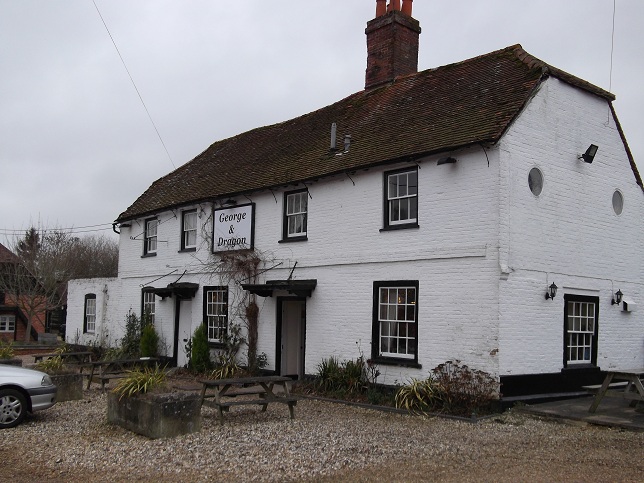 Sunday lunch is always a treat at The George and Dragon Pub in Wolverton Townsend. 
It is especially good when Paula has Roast Leg of Lamb on the menu.  The sensational waft of lamb cooking as you enter the pub is truly mouth watering (my favourite roast meat, if that isn't already obvious!) 
If your lucky enough,  (or smart enough to book as my husband did) the table by the fire is unbeatable, especially on an icy cold day as this was.
We settle very well in front of the roaring fire and after a pint of real ale (my husband chose Henry's IPA) and a Thatchers Cider for me, we order our meal at the bar. 
Our meals come swiftly to the table and we are not disappointed.  Quite a huge serve of tender, succulent lamb is accompanied by a large roast potato, Yorkshire pudding and beautifully cooked broccoli, carrots and peas, along with a perfect amount of gravy and a side dish of mint sauce.  Pretty damn good, and the Australian Shiraz Cabernet turned it into a feast for lamb loving me!  Priced at £9.99, it's extremely good grub for the price.
The other Roast of the day was Loin of Pork.  Other specials were listed on another menu board along with some yummy desserts and the full menu was also on offer.
It's always hard to leave this place….just as well it isn't open all day as we would certainly be tempted to linger a little longer!