One of my favourite, relaxing, most enjoyable pastimes….. to kill an hour  in the early evening, is sitting with my husband at the round table by the amazing, blazing fire at the George and Dragon Pub in Wolverton Townsend.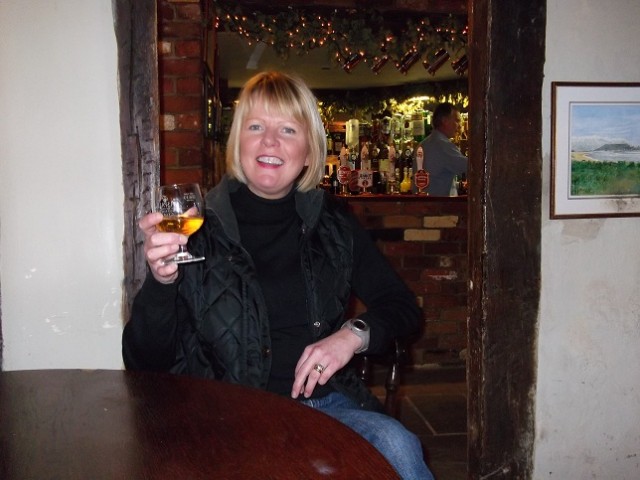 It's a five minute drive or so from our place and never disappoints.  I occasionally drag my husband there at lunchtime on my day off for a pint and a serve of their lovely pork pate.  We find it hard leaving that table when it's bitter and cold outside! 
It is a very well run country pub and as the owners have been there for 25yrs now, they take great pride in the running of the place.  My husband is a huge fan of real ale! and will be delighted to tell anyone that Lionel tends his cellar of ales to the highest standards.  "This is very good", "top class" is often heard from his lips (when the pint glass isn't touching that part of his face!) 
Christmas is looking magnificent here already with Lionel's talented wife Paula decorating the characterful pub with her touch of Christmas.  She has a lot of class and does a brilliant job at running this pub with Lionel. 
Even though we are in the depths of bitter, winter conditions now, I must mention this pub in the summer is also a real gem.  They have a huge, magnificent green outlook from numerous tables facing a beautiful old willow tree.  In the spring, this is under planted with a huge display of daffodils.  Also, plenty of parking and very dog friendly.  We are off there for a bite to eat on Friday night, perhaps a bottle of a lovely Australian red wine along with a great steak from Wyatt's Butchers Wolverton Park…..Magnificent!  Hope no one has booked the round table by the fire!   Will keep you posted!