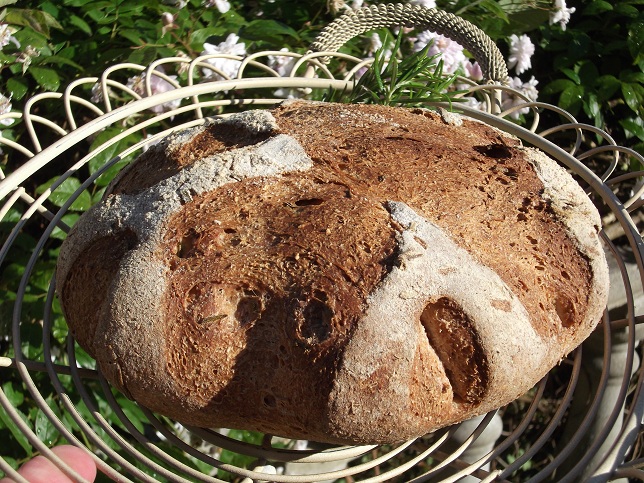 This is a great, crusty loaf of  bread to serve at a picnic or even better, as we did, at a BBQ.
Marinate some chicken pieces in olive oil, garlic and Italian herbs, cook on the barbie along with some well made pork sausages and you have a simple, delicious meal.  Served with a crisp green salad this Rosemary Bread works wonderfully well.  I also like serving it with a small dish of olive oil and balsamic vinegar for dunking.  It also makes lovely toast and freezes well.  Here's the recipe……
450g strong wholemeal bread flour
275ml warm water
1 oz butter or margarine
1 teasp dried yeast
2 teasp sugar
1.5 teasp salt
2 tbsp chopped fresh rosemary
METHOD:
Put the water into the bottom of the bread pan of a bread making machine, then add flour, salt, sugar, yeast and marg.  Process on a wholewheat dough cycle for an hour.  Take out of tin and nead fresh rosemary gently into dough and form a ball.  Transfer dough to a greased flat baking tray. Rub all over top with flour and using some scissors slash the top to make a crusty finish.  Leave to rest in a warm, draught free place (I use the cupboard the boiler is in) until doubled in size.  bake in a hot oven until golden (about 30 minutes in my oven)  Serve when cool.
0