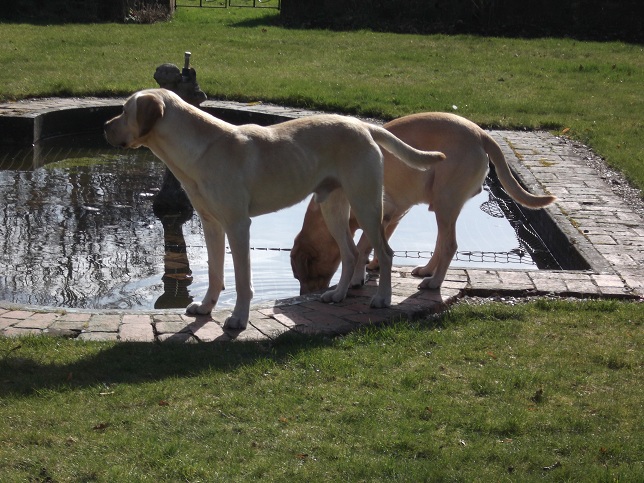 What a wonderful walk we had with the two dogs today.  Jester is so well behaved now, still very wary of strangers though.  Indi, on the other hand is very relaxed on his walks and still doesn't respond to any sort of discipline when he is in a particular free roaming mood.
Today Indi didn't run off too much and stayed by my side until we arrived back to the estate.  It's amazing how quickly things change!!  As we were walking through the last field where the lambs are grazing, he took off (and Jester too) to chase a pheasant.  The poor bird was cornered into an area of the fence and had no where to go.  Indi pounced on it straight away and had it grid locked in his mouth, walking back towards me like he had landed some Noble Peace Prize!  "Drop it!! Indi", I demanded.  No response.  "Dead Indi!" I said. (a phrase gun dogs are supposed to respond to…..but not this dog!)  "Indi, drop that bloody bird!  Now!!"  I shouted.  No response. 
He followed us back to the dogs room, sat down in his comfy bed, then finally released his tight grip on the bird.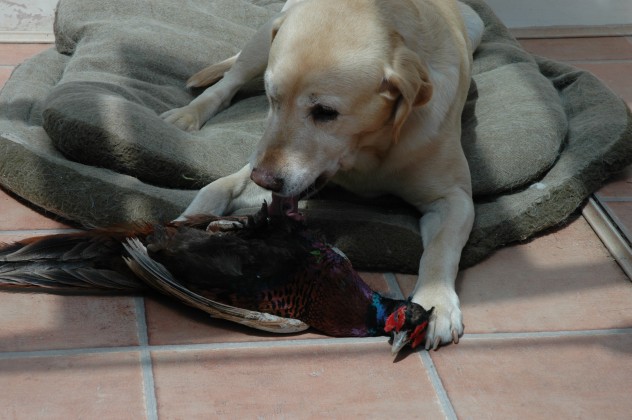 Pretty horrific behaviour for a dog that has meant to have had great training!  The worse was yet to come.  I now had the grizzly, barbaric task of putting the poor bird, that was still alive, out of it's misery………..this was not going to be pleasant!
So, after putting on a a pair of gloves, I took the bird from Indi and took it down into the field, to a quiet spot where I thought I could lay it to rest after putting it out of it's misery……. to break the bird's neck was the most humane way to put the wounded bird down.  I have never in my entire life had to do such a horrible thing, but the bird had to be put out of his pain, so I had to do what was required.
I sat next to the pheasant and cried a little for the pain that had been inflicted on this bird.  I felt sick in the stomach but will be well up on the correct procedure if this is to happen again.
0